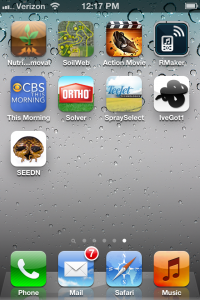 As smart phones and tablets increase in use among farmers they may want to take a look at some of the apps that are currently available for use on these devices.  There are several that I currently use that are worth taking a look at if you are a farmer or land manager.
One app that I have found useful is the SoilWeb app developed to provide a portable online interface to the USDA NRCS Digital Soil Survey data.  This neat little app provides GPS based, real-time access to Soil Survey data right from your phone or tablet.  In the photos below you see an example where I used this app in a Holmes County crop field to obtain the soil survey information for that field.  In this case the soil type is Dothan which is one of our better soil types for crops.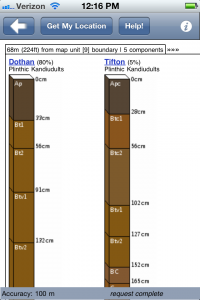 Another app that some producers may find useful is Tank Mix Calculator. This particular app allows you to calculate a tank mix on your mobile device of most of the commonly available chemicals, or you can add your own chemicals to the list.  The app I have shown above is one example, but there are other apps available that perform a similar service.  I have included two more screen shots from this app.
Another app that many farmers will find useful is the DTN/The Progressive Farmer: Ag News, Markets, and Weather app.  Like the other apps I have shown above this app is one example of several that are out there.  One nice feature of this app is the capability to track cash grain prices at more than 4,000 local cash bid locations across the U.S.  It also provides detailed market data on futures markets, etc.  The weather portion of this app allows you to see radar maps, satellite maps, five day and hour-by-hour forecasts, and much more. Take a look around, there are many apps  out there that you might find useful in your operation!
Submitted by Shep Eubanks – Holmes County Extension