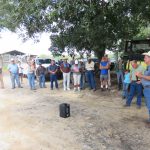 JCCA Cattlemen's Tour
9:00 AM – 1:30 PM CDT, Friday, July 21
The Jackson County Cattlemen's Association will be hosting a ranch tour on Friday, July 21.  Tour participants will gain insights into hay production, presented by two-time Jackson County Hay Farmer of the Year, Jimmy Alday. The next stop will be at Luke Arnold's ranch to learn about ranching on hilly soils, use of UF Riata Bahia, and Tifton 85 Bermudagrass for hay and grazing.  The final stop will be Bar 9 Ranch to learn about water trough utilization using a solar-powered well for over 50 trough sites, weed-control demonstrations, lane fencing ideas, and an EQIP presentation by Cindy Jordan, NRCS.  The tour will conclude with a grilled hamburger lunch.
There will not be a registration fee, but participants are requested to RSVP with Sabrina, at the Extension Office at (850) 482-9620, or email Sabrina.Farr@ufl.edu, no later than July 19, to ensure there is plenty of cold beverages & food.
Carpooling is recommended to limit the number of vehicles on the tour. Drivers should have enough fuel for the trip in the general area around Sneads. The tour begins at Jimmy Alday's farm, located at 2212 Walden Road, in Sneads, FL.